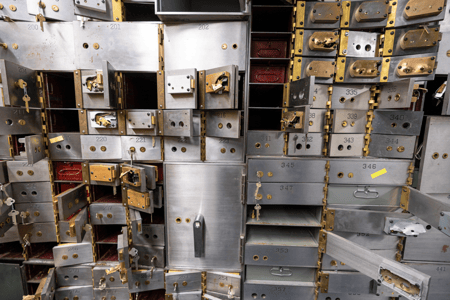 All eyes were on the Silicon Valley Bank failure that occurred just a few weeks ago. Memories of the 2008 financial crisis stirred up deep fears and urgent questions for business owners all across the nation - "What will this mean for us?", "Is our local bank going to fail as well?", "Can we trust the United States Government to respond in ways that benefit the 'little guy' instead of large stakeholders?"
All in all, the crisis was very well contained and has not yielded large consequences for the majority of other banks. Yet, these questions still remain in the back of many minds, knowing that this situation could happen again in the future. If you're someone who was left feeling uneasy after these recent events, here are a few options you have to protect your money:
1. The Power of Separate Accounts
FDIC-insured institutions provide protection up to $250,000 per registration/title per account. Meaning that you can have an individual account in your name and a separate one for your spouse and have up to $250,000 in protection each. Also, joint accounts have up to $500,000 protection. Meaning you can have up to one million dollars worth of protection in a single bank. Utilize these account limits to best insure your business's financial assets.
2. Don't be Afraid to Explore Additional Banks
If your deposits grow to an amount that is over the FDIC-protected limit, exploring opening up another same-titled account at a separate bank is a good option. There is nothing that forbids the use of different banking institutions to store your assets, just be sure to have a clear record of how much is in each account, as well as what account is used for different expenses or deposit types. Organization is key with this method.
3. Contact Your Banking Institution for Options
If you are a business owner overseeing corporate bank accounts, you should contact the company's current banking institution to explore your options and the best next move. Despite what some conspiracy theorists might have you believe, banks can overall be very trusted with your money and your well-being. Banks want to keep customers, and because of this, they will be one of the best resources for you to learn what options you have and to help you make the best decision regarding your money and assets.
4. Explore Third-Party Options
You can also send your cash to a third-party custodian. For example, Schulz Wealth client accounts are cleared through TD Ameritrade /Charles Schwab. This is a large institution with a very conservative outlook and a rich history of reliability. There are options for protection available through SIPC, FDIC, or the purchase of near cash instruments like US Treasuries or Certificates of Deposit.
If you still have any questions about what is going on with the banking system or want to talk with industry experts to get personalized solutions for you and your business, please do not hesitate to contact the financial planning experts at Schulz Wealth.
These are our thoughts, have a great Thursday.
~ Jared Pestcoe, Investment Advisor