P&L: Priorities & Lifestyle Episode 8 -
Making the Most Out of Your God-Given Opportunities with Odes Mitchell
Listen Now!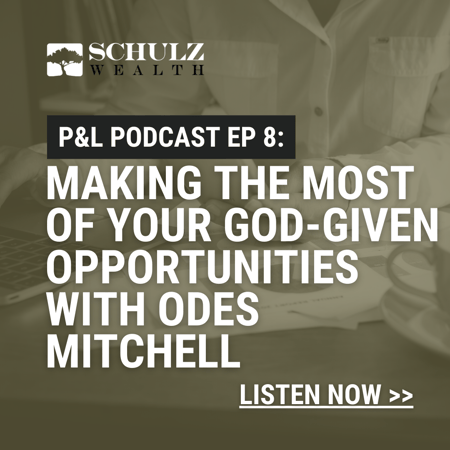 Odes Mitchell is the CEO of GM Pharmaceuticals, a family-owned and operated pharmaceutical company based in Arlington, Texas. Established in 1991, the company has produced over-the-counter and prescription medications as well as supplements to doctors, pharmacies, and consumers. Unlike many of his peers, Odes had a humble start in life, working as a truck unloader in his youth and an airport baggage handler for fourteen years. A man of deep faith, Odes owes his success to the opportunities God sent his way, and it shows: the G in GM Pharmaceuticals stands for God, and M for Mitchell, because God comes first.
In this episode, Odes describes his life: his youth, the small jobs he took, and how the entrepreneurial spirit latched onto him and led to the founding of GM Pharmaceuticals. He explains his experience in sales and why no one is born proficient in the field. He shares how God showed him the path to success. He discusses some of his company's popular products and the innovations the company has made. Odes also explains why he doesn't like to take business loans and why he sees the future of sales as fully digital.
"God gives you responsibility. The more successful you are, the more opportunity God is going to give you." – Odes Mitchell
Our Favorite Quotes:
"I believe God puts you in spots."

"A lot of times, we think of planning for success from a monetary standpoint." – Rob Schulz

"As our careers mature, it's so important to have that next generation." – Rob Schulz
Connect with Odes Mitchell
About Rob Schulz and P&L Podcast
The P&L Podcast is a show for business owners. In each episode, host and financial planner Rob Schulz sits down with business owners and the professionals that serve them to talk about business building, life, money — and the all-important transition out of the business, which inevitably happens to everyone who has ever founded a company.
Email Rob at rob.schulz@schulzwealth.com with questions, comments, and to schedule a one-on-one conversation.
Follow Rob on LinkedIn.
Follow Schulz Wealth on LinkedIn
Order Rob's book, Thoughts on Things Financial, on Amazon | Barnes & Noble | Kobo | iBooks | Kindle
Subscribe here:
And, if you enjoy the show, please leave a review on iTunes to help others discover the podcast.