2022 Living Magazine Award Recognizes Schulz Wealth as Best Financial Advisor in Arlington & Mansfield
Schulz Wealth is proud to announce that our firm has been recognized by Living Magazine as the 2022 Best Financial Advisor in Arlington and Mansfield. The Living Magazine's Best of Awards is a contest run every year in which local businesses are nominated and voted on by community locals and the magazine's readers for North and South Texas.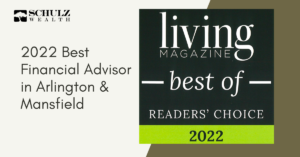 This marks Schulz Wealth's first year earning this honorable distinction. We are truly honored to receive this award as it is our goal and commitment to provide outstanding customer service and empower clients with the knowledge and tools they need to have financial success.
Thank you to Living Magazine and all those who nominated and voted for Schulz Wealth. In the years to come, we hope to continue providing best-in-class service.
Here's a special note from Rob:
About Rob Schulz and Schulz Wealth
Rob Schulz, President of Schulz Wealth, Ltd., is a graduate of The University of Texas at Austin and a former Naval Officer. As a retirement planning expert and Certified Financial Planner™, Rob has previously taught retirement planning to aspiring advisors at Texas Christian University and The University of Texas at Arlington. Rob speaks and writes regularly on industry and financial planning topics and is the sole owner of Schulz Wealth Ltd., a Registered Investment Advisory firm in Mansfield Texas.
Schulz Wealth manages assets and conducts financial planning for clients throughout the DFW area and around the Globe.
Learn more at www.schulzwealth.com.
About Living Magazine
Living Magazine is the most distributed community magazine in the state of Texas. Each month, more than 490,000 copies are direct mailed to homes in 95 suburban cities throughout the Dallas, Fort Worth, and Houston markets.
Each month, Living Magazine publishes business spotlights and business profiles on local, and community businesses. A city-specific community calendar is included in each issue of the magazine, to help readers learn about family-friendly activities in their neighborhoods.
As a quality-of-life publication, Living Magazine also produces inspiring and challenging editorial content that is relevant to all readers. Each month, a variety of editorial departments help influence the readers' lifestyle decisions – from emotional well-being and healthy living to looking their best and decorating their homes.
For more information, visit http://www.livingmagazine.net
*Awarded June 10, 2022 by Living Magazine, no compensation was provided in any way by the Firm in connection with obtaining or using this rating.