P&L: Priorities & Lifestyle Episode 3 - Transitioning The Family Business During a Crisis with Jeff Craig
Listen Now!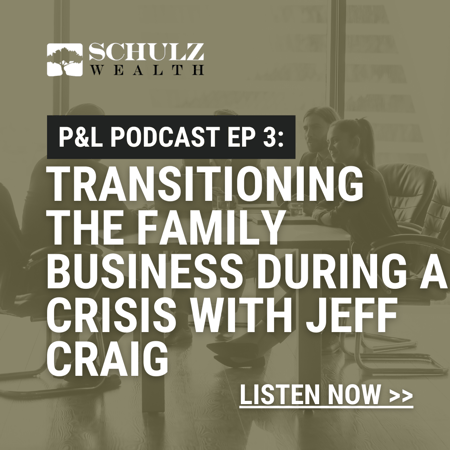 Jeff Craig is the former President of Blaylock Gasket & Packing, a third-generation industrial gasket manufacturing company founded in 1983. They produce products like gaskets, extrusions, pads, and mechanical packing using a variety of materials like rubber, foam, non-asbestos paper, fiber, and felt. Serving a wide range of clients in the oil, food, OEM, construction, and agriculture industries, the company has been known as "Your Sealing Source" for high-quality gasketing materials. Currently focused on spending his time with his young grandchildren, the company is now operated by Jeff's son, Jeffrey, who managed the company through the trials and tribulations of 2020, at the height of the COVID-19 pandemic.
In this episode, Jeff describes the feeling of transitioning a business you've grown and managed to your children. He shares the experience he wants his son to have and some of the expectations he knows his son will meet. He discusses the history of the company, how his father groomed him to be a leader, and when he started thinking about retirement. He explains how the company survived the 2008 economic crash and how his son held the company together in 2020. Jeff also shares the projects and trips he's planning, now that he's no longer the full-time head of the business.
"As far as transitioning, make sure you got the right person to transition to. If you don't, you're going to run into problems." – Jeff Craig
This week on Priorities Lifestyle:
How Jeff learned to run a business
How Jeff's business survived the 2008 recession
What you need to know before transitioning a family business to your children
When Jeff planned his retirement and how he wanted to go about it
Why Jeff is impressed with how his son managed the family business
Teaching your children employee management skills
The marketing changes Jeff's son immediately started after inheriting the business
The effects of the pandemic on the business and how they managed to perform well in spite of it
Some of the positive effects the pandemic had on them as a family
The different projects and trips Jeff plans to do with his spare time
Jeff's tips for those thinking about transition out of their business
Our Favorite Quotes:
"I don't think you can transition without taking input from the person that's going to take it over." – Jeff Craig
"In transitioning a business, usually there's a point that a little bit of remorse kicks in." – Rob Schultz
"Not having a debt load plus having assets allows you to structure a transaction that works." – Rob Schultz
Connect with Jeff Craig:
Email: jeff@blaylockgasket.com
About Rob Schulz and P&L Podcast
The P&L Podcast is a show for business owners. In each episode, host and financial planner Rob Schulz sits down with business owners and the professionals that serve them to talk about business building, life, money — and the all-important transition out of the business, which inevitably happens to everyone who has ever founded a company.
Email Rob at rob.schulz@schulzwealth.com with questions, comments, and to schedule a one-on-one conversation.
Follow Rob on LinkedIn.
Follow Schulz Wealth on LinkedIn
Order Rob's book, Thoughts on Things Financial, on Amazon | Barnes & Noble | Kobo | iBooks | Kindle
Subscribe here:
And, if you enjoy the show, please leave a review on iTunes to help others discover the podcast.