P&L: Priorities & Lifestyle Episode 17 - Life as an IRS Agent with Gil Vollmering
Listen Now!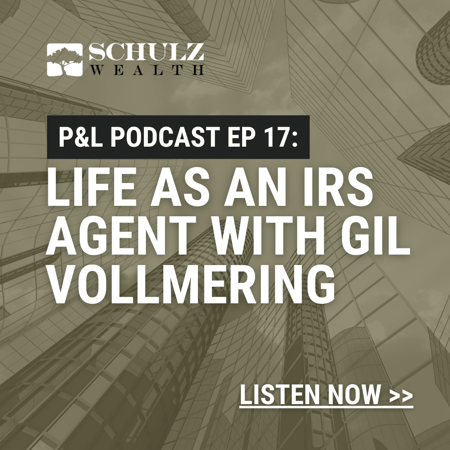 Gil Vollmering is the owner of Waters, Vollmering & Associates, an accounting firm headquartered in Mansfield, Texas that has been providing service since 1985. Before becoming a firm partner, Gil was with the IRS for over ten years as a revenue agent and internal auditor. In addition to this, Gil has over 20 years of public accounting experience. Gil is also passionate about military history — especially regarding the Navy — and strives to stay updated with what's happening with our territorial waters.
Gil joins me today to discuss his career in the IRS, some of its everyday practices, and why getting a notice doesn't always mean you did something wrong. He describes the kind of work ethic he possesses and why it ultimately led him to leave the IRS to work for an accounting firm. He explains why the IRS can sometimes be unfair and why he prefers it to be "dumb and slow." Gil also shares his thoughts on investments and risk mitigation, and explains why he's not a fan of spending money for higher tax deductions.
"A tax return is a work of art. It's not a commodity." – Gil Vollmering
This week on Priorities Lifestyle:
Who Gil Vollmering is and his experience working in the IRS

Why Gil's work ethic didn't match the pace the IRS preferred

Why it's beneficial to be a morning person in business

The stress involved in being audited by the IRS

How the pandemic made it difficult for the IRS to process tax returns

Gil's thoughts on the Build Back Better Act

Asking if the IRS needs more funding

Why Schedule C is the form most IRS agents are trained to audit

Risk mitigation and the frustrations associated with it

Gil's thoughts on spending for tax deductions

The difference between a C and S corporation

Gil's passion for military history and the Navy

Why reality is your friend when it comes to helpful advice

Key takeaways from the interview with Gil
Our Favorite Quotes:
"The piece of paper that comes through the mail from the IRS invokes a lot of fear." – Gil Vollmering

"Investing, the majority of it, is about mitigating risk." – Rob Schulz

"It's okay to not know the answer. Go find out from the smart accountant or state attorney or wherever it may be." – Rob Schulz
Connect with Gil Vollmering:
Email: gvollmering@wva-cpa.com

Phone: (817) 473-0228
About Rob Schulz and P&L Podcast
The P&L Podcast is a show for business owners. In each episode, host and financial planner Rob Schulz sits down with business owners and the professionals that serve them to talk about business building, life, money — and the all-important transition out of the business, which inevitably happens to everyone who has ever founded a company.
Email Rob at rob.schulz@schulzwealth.com with questions, comments, and to schedule a one-on-one conversation.
Follow Rob on LinkedIn.
Follow Schulz Wealth on LinkedIn
Order Rob's book, Thoughts on Things Financial, on Amazon | Barnes & Noble | Kobo | iBooks | Kindle
Subscribe here:
And, if you enjoy the show, please leave a review on iTunes to help others discover the podcast.