P&L: Priorities & Lifestyle Episode 9 - The Ultimate Goal of Selling Your Business with Michael Sweet
Listen Now!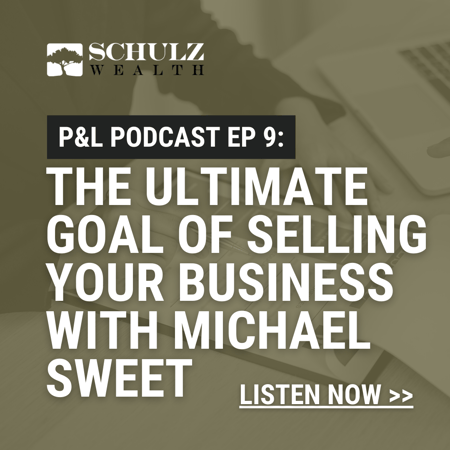 Michael "Mike" Sweet is an attorney for Brackett & Ellis, a Fort Worth law firm that provides a wide range of litigation and transaction services. He has extensive experience representing clients in a variety of legal services, including estate planning and trust and estate tax. Michael has also been awarded Board Certification in Estate Planning and Probate by the Texas Board of Legal Specialization, a title achieved by no more than 10% of practicing attorneys in Texas.
In this episode, Michael shares how business owners can prepare their business for the unexpected. He describes some of the ways a strong business can shut down. He explains the importance of assigning a risk management group to ensure that your company has a safety net if things go south. He discusses how to find successors and how to make sure they can keep the business running well after your exit. Michael also describes why working with an attorney who can handle your estate taxes is always worth the money regardless of costs. Don't miss the end, where Michael talks about preparing for the upcoming change in tax laws — and what it can mean for your estate planning.
"If the ultimate goal is to sell your business, there are things you have to do years before that." – Michael Sweet
Our Favorite Quotes:
"The sooner you can identify the people who are ready to take over, the better." – Michael Sweet

"You have to plan for the unexpected if you're a business owner." – Michael Sweet

"When a business is not heading in an exciting direction, the idea of an exit can rejuvenate the owner." -Rob Schulz
Connect with Michael Sweet
Email: msweet@belaw.com

Phone: (817) 339-2452
About Rob Schulz and P&L Podcast
The P&L Podcast is a show for business owners. In each episode, host and financial planner Rob Schulz sits down with business owners and the professionals that serve them to talk about business building, life, money — and the all-important transition out of the business, which inevitably happens to everyone who has ever founded a company.
Email Rob at rob.schulz@schulzwealth.com with questions, comments, and to schedule a one-on-one conversation.
Follow Rob on LinkedIn.
Follow Schulz Wealth on LinkedIn
Order Rob's book, Thoughts on Things Financial, on Amazon | Barnes & Noble | Kobo | iBooks | Kindle
Subscribe here:
And, if you enjoy the show, please leave a review on iTunes to help others discover the podcast.