P&L: Priorities & Lifestyle Episode 16 - The Seller's Journey with Denise Logan
Listen Now!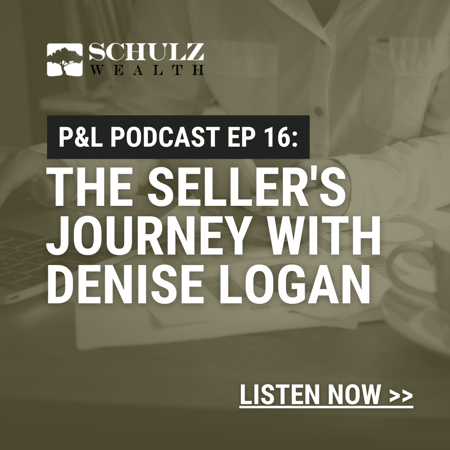 Denise Logan, also known as The Seller Whisperer, coaches leaders and business owners on how to leave or sell their businesses successfully without feeling empty afterward. She is a speaker who regularly talks about the emotional rollercoaster of business selling and about the importance of making sure a plan is in place in the event of an untimely passing. Denise is also the author of The Seller's Journey, which she describes as a business fable.
Denise joins me today to discuss the emotional aspects of exiting a business and why some owners have trouble letting go. She describes what readers can expect from her book and dives into the client experiences that form the foundation of the book. She explains why many owners have difficulty with expressing their emotions when they sell their business and why they end up buying a new one soon after. Denise also reveals her personal regrets from when she sold her firm and what she would have done better.
"Leaving our business is a transition point." – Denise Logan
This week on Priorities Lifestyle:
What makes

The Seller's Journey

a business fable

What business owners can learn from reading

The Seller's Journey

Denise's experience living in a motorhome and traveling

Exiting your business and why most business owners don't have an exit plan

Denise's regrets from selling her own firm

What work provides for you other than money

Why owners can feel exposed when they leave the business

What the end of a company means to its owner

Denise's experience helping various clients cope with their business exit

Why passing the company to your kids isn't always a sign of success

Planning for the owner's death when transitioning a business
Resources Mentioned:
Our Favorite Quotes:
"It's always about having a plan — and knowing the plan is going to change." – Denise Logan

"One thing business owners do when they sell their business is they buy another business." – Rob Schulz

"What we do as a profession is not necessarily what we do for ourselves." – Rob Schulz
Connect with Denise Logan:
About Rob Schulz and P&L Podcast
The P&L Podcast is a show for business owners. In each episode, host and financial planner Rob Schulz sits down with business owners and the professionals that serve them to talk about business building, life, money — and the all-important transition out of the business, which inevitably happens to everyone who has ever founded a company.
Email Rob at rob.schulz@schulzwealth.com with questions, comments, and to schedule a one-on-one conversation.
Follow Rob on LinkedIn.
Follow Schulz Wealth on LinkedIn
Order Rob's book, Thoughts on Things Financial, on Amazon | Barnes & Noble | Kobo | iBooks | Kindle
Subscribe here:
And, if you enjoy the show, please leave a review on iTunes to help others discover the podcast.