On the Fo'c'sle of the USS John Rodgers in the warm sun of Valparaiso, Chile we watched as command passed from one captain to another. We knew little and had learned less about our new CO in the two weeks he had been aboard. Quiet and unassuming, later we would enjoy his quick smile and calm demeanor. For now, we only knew he was different from what we had been accustomed.
There were no big speeches to the crew. Mike LeFever reminded me of what I had read about Admiral Raymond Spruance; the World War II victor at Midway (his biography entitled "The Quiet Warrior" had been influential to me). Over time, as we sailed South through the majestic Patagonian Channels to the ends of the ocean and back again, shipboard life started to change. Somehow, almost magically, our new CO had conveyed to all of us that we had a job to do, it was important, and we would be successful if we worked to together and trusted each other.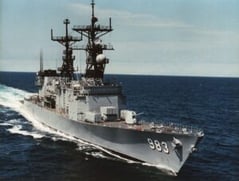 When we arrived back at our homeport of Charleston, South Carolina, there was further evidence of his unpretentiousness. The destroyers of DESRON 4 usually tied up alongside the same long pier. Ship's Captains were allowed to park their personal cars right next to their ship; therefore, everyone knew the Captains by the cars they drove. There were some nice cars on review as we walked up the pier, but the John Rodgers always had a minivan sitting alongside. In the Wardroom, he took some teasing for his choice of vehicular representation for our ship! Kidding aside; Captain LeFever's authenticity was a refreshing divergence from anything we had ever seen in the Navy before.
My sailors, especially my "IC Men" (Interior Communications Specialists) were on a roll. With the support of our chain of command, we were allowed to ask for and received several major SHIPALT's (requests to change or upgrade equipment). The upgrades we made to our phone system, the 1MC (public announcement system), and several other systems, were very complex and pushed the envelope of what we were capable of achieving. My Division worked incredibly long, hard, and frustrating hours changing out critical communications equipment. I received nothing but calm encouragement and support from my Captain; even when horrific deadlines loomed. I learned to mirror a "you can do this" attitude to my men, and they responded in a way that left me in awe of their tenacity.
Similar success was being achieved throughout the ship, but soon thereafter near disaster struck.
We were performing an unusual operation in littoral waters just off the coast. I had the Deck and the criteria of the exercise required us to barely make way as we calibrated some mission critical equipment. The shallow water in conjunction with the currents and tides made it nearly impossible to maintain a true course at such low speed. On the Bridge, we were all nervous as the shore station requested that we steam into thinner and thinner water. Ultimately, we found ourselves stuck in the mud.
We were able to free ourselves from the soft silt, but touching the bottom of the ocean with your bow is big no-no in the US Navy. I was unsure how our Captain would respond to a career-ending situation. Due to my experience under previous leadership, I was prepared for a cover-up, or a Clintonian "It depends upon what the meaning of the word 'is' is" discussion as it related to going aground.
I was wrong. Captain LeFever announced to the Bridge that a full and accurate report would be filed immediately. In order to do our job, the sonar dome and other systems below the waterline had to be checked out; it was that simple. To Captain LeFever, our mission was always first, the crew was second, and he considered his own career and well-being a distant third. Fortunately, no damage was found. The higher ups found no reason to punish anybody but the incident could have EASILY ended our Captain's career, along with the rest of us on the Bridge at the time.
Unlike what I had experienced previously, my new CO went out of his way to praise, encourage, and teach his young officers. Because of the trust and support I received; I grew personally in my abilities by leaps and bounds.
On one of my last voyages, we embarked some civilians and family members to track a space shuttle launch off Cape Canaveral. Our return to Charleston was delayed by high winds so we would need to navigate up the Cooper River at night. The operations meeting that evening was standing room only in the Wardroom. Many of those in attendance were seeing for the first time what it was like to coordinate one of the toughest Sea and Anchor's on the East Coast. After all of the reports had been received, Captain LeFever thoughtfully announced: "We have never come into Charleston at night before. We'll need our best and most experienced shipdriver at the Conn so Lieutenant Schulz will take us in tonight". His words were a welcome vindication from the treatment I had received under previous command.
The best leaders bring out the best in those they lead. I had learned how bring out the best in my sailors, and Captain LeFever had brought out the best in me. I had completely written off my chances of succeeding, putting all of my efforts into taking care of my men, and unexpectedly the course of my life had changed.
Mike LeFever was an extraordinary leader who continues to make a real difference in our world. He was wearing the three stars of a Vice-Admiral on his boards when he retired last year, but he is a rarity among senior level military leaders, politicians, or successful corporate CEO's. The brutally honest truth is that, unlike Admiral LeFever, most people at such high levels of power and success got there by looking out for themselves and their own self interests. Admiral Spruance, in comparison, was practically unknown to the general public during his lifetime yet his contributions to the success of Allied Forces in the Pacific was second to none.
As leaders, if we really want to change the World and have a positive impact on the lives of others, we must put our purpose and our people ahead our own self interests. Look around, and you may see a small handful of folks who fit this description of a great leader. They are hard to spot because of the quiet way they go about things. It's the impact that you see in their company, industry, or community; not their name or face in the media. These special leaders rarely get any recognition, but they should. Who comes to mind that you believe fits this mold? Send them a note, an email, or make a call out to let them know you can see their impact. I am sure it will mean a great deal to them.
RS