P&L: Priorities & Lifestyle Episode 19 -
Using Data To Promote Driver Safety with Rick Larkin
Listen Now!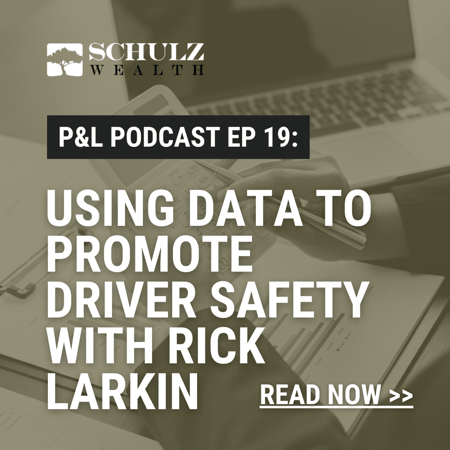 Rick Larkin is the Chief Information Officer at BCB Transport, a trucking company in Texas that empowers its independent contractors, employees, and truck drivers. Unlike most transport companies, Rick is big on driver safety, making critical decisions based on data—especially with the pandemic persisting. With over 10 years of leadership experience in the transport industry, Rick has also become an expert in operations management, logistics, business development, and team building.
Rick joins me today to discuss how BCB Transport uses data to reduce driver accidents and other safety incidents. He describes how the workplace has changed in just ten years. He details the market shift that happened in 2018 and how it bankrupted many transport companies. He explains how BCB Transport manages to put safety over profits, even if it means making a few customers angry. Rick also discusses their podcast and how it has positively affected the way their truckers drive and even park.
"In June-July of 2018, the market changed, and those folks who didn't know their data went out of business." – Rick Larkin
This week on Priorities Lifestyle:
Why work today is quieter than it was a decade ago

The big roadblock Rick initially encountered in his business

What it was like to be forced to go big into the business

How the market changed for the transport industry in 2018

When Rick realized the data they had before electronic logs were fake

Trusting your team to hold themselves accountable for their roles

The number of times you should change the way your business runs

Shifting from a trucking company to a safety company

Prioritizing the safety of your workers over sales

How their podcast encourages driver safety

Addressing the problem of retiring truck drivers
Our Favorite Quotes:
"Being on time is not as important as being safe." – Rick Larkin

"Sometimes, the more technology there is, the more dangerous it is." – Rob Schulz

"You provide all that care for your employees, but you need some of that as an owner as well." – Rob Schulz
Connect with Rick Larkin:
Email: rick.larkin@bcbtransport.com
About Rob Schulz and P&L Podcast
The P&L Podcast is a show for business owners. In each episode, host and financial planner Rob Schulz sits down with business owners and the professionals that serve them to talk about business building, life, money — and the all-important transition out of the business, which inevitably happens to everyone who has ever founded a company.
Email Rob at rob.schulz@schulzwealth.com with questions, comments, and to schedule a one-on-one conversation.
Follow Rob on LinkedIn.
Follow Schulz Wealth on LinkedIn
Order Rob's book, Thoughts on Things Financial, on Amazon | Barnes & Noble | Kobo | iBooks | Kindle
Subscribe here:
And, if you enjoy the show, please leave a review on iTunes to help others discover the podcast.