P&L: Priorities & Lifestyle Episode 27 –
What To Do With Your Property in Today's Economy with Mark Cabal
Listen Now!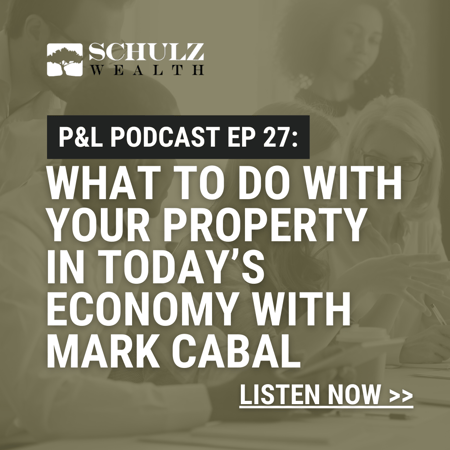 Mark Cabal is a professional realtor who runs Mark Cabal Realty with his wife, Brenda. Mark has been in the real estate scene for over 15 years. He witnessed the state of the market in 2008 and used his experience to navigate the crash in 2020. He produces $25 million yearly in real estate transactions and is in the top 5% of over 700 agents in their office. Mark was recognized as a Best Agent by D Magazine for his expertise and dedication in 2012, 2013, 2016, and 2018.
Mark joins me today to describe the current state of the real estate economy. He explains what new investors should do when hunting for their first contract and what property owners should do with their homes. He discusses why transactions must be completed as fast as possible. He differentiates between the pricing accuracies of Realtor.com and Zillow. Mark also shares how his wife became his business partner and why he was initially hesitant.
"If you try to do things traditionally, you're going to lose." – Mark Cabal
This week on Priorities Lifestyle:
Real estate and why it's the weirdest market ever

Zillow's house pricing accuracy compared to Realtor.com

Mark's advice to homeowners when they're trying to sell

What you should do when you get the opportunity to buy or sell a property

Why you should think about the future when you hold a property

How fast a transaction should be conducted

Why Mark prefers to hold properties

Mark's advice for first-time home buyers

Mark's wife as his business partner

The common pitfalls of new real estate investors

The importance of CPAs in this industry

Why Mark and his team don't work as hard as they used to

How the pandemic changed the way Mark did business and his long-term perspective
Resources Mentioned:
Our Favorite Quotes:
"If you pay top price for your home, you're going to sell at top price." – Mark Cabal

"When I ask a client what their house's worth, it's a whole other conversation." – Rob Schulz

"On a flip, the key is fast." – Rob Schulz
Connect with Mark Cabal:
Email: mark@markcabal.com
About Rob Schulz and P&L Podcast
The P&L Podcast is a show for business owners. In each episode, host and financial planner Rob Schulz sits down with business owners and the professionals that serve them to talk about business building, life, money — and the all-important transition out of the business, which inevitably happens to everyone who has ever founded a company.
Email Rob at rob.schulz@schulzwealth.com with questions, comments, and to schedule a one-on-one conversation.
Follow Rob on LinkedIn.
Follow Schulz Wealth on LinkedIn
Follow Schulz Wealth on Facebook
Order Rob's book, Thoughts on Things Financial, on Amazon | Barnes & Noble | Kobo | iBooks | Kindle
Subscribe here:
And, if you enjoy the show, please leave a review on iTunes to help others discover the podcast.