P&L: Priorities & Lifestyle Episode 2 -
From Franchisee to Starting a Business During Retirement with Dan Phillips
Listen Now!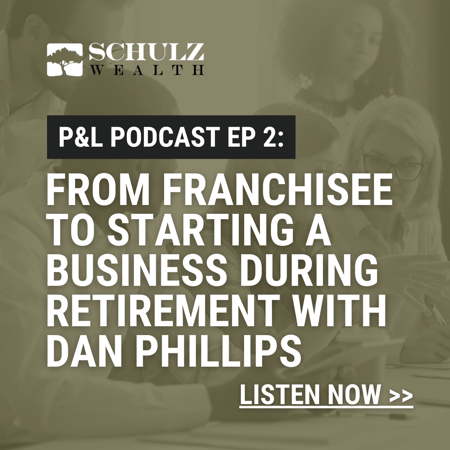 Dan Phillips is the Owner and Head Accountant at SIMDA Services Corporation, a family-run accounting and bookkeeping company dedicated to serving clients who want their small businesses to thrive in an ever-changing market climate. He has over 37 years of experience in business operations and financial accounting and held controller and management positions. He founded SIMDA Services Corporation shortly after selling his FASTSIGNS business franchise after 22 years. Dan also enjoys serving in his community, including being a core member of their local school board for over 12 years, participating in the Rotary clubs, and as a member of the Chamber of Commerce.
In this episode, Dan shares how business owners can successfully sell their company. He describes his journey from working in a corporate office to becoming a business owner and franchisee and what led him to buy a FASTSIGNS franchise. He explains the reasons he sold his franchise and how retirement factored into this decision. He discusses his experience in real estate and what he wishes he knew earlier. Dan also shares the importance of being open-minded as a business owner and how he currently empowers small businesses through his accounting and bookkeeping services.
"You can make plans, but they change as life goes on." – Dan Phillips
This week on Priorities Lifestyle:
Dan's journey to becoming a franchisee and business owner.
Dan's experience in real estate
The importance of keeping an open mind as a business owner.
Why Dan eventually sold his commercial real estate.
What Dan wishes he had done earlier in his career.
How Dan's company helps empower small businesses.
What it takes to embrace sudden changes in the market.
Why Dan's current business is much better for retirement.
How Dan found success in selling a business.
Our Favorite Quotes:
"The other business, if anything, has prolonged me needing to touch any of my retirement funds. That's really what it's done." – Dan Phillips
"Real estate becomes a big part of a lot of business owners' lives." – Rob Schultz
"Surround yourself with people who know what they're doing." – Rob Schultz
"Plans change and you have to be able to change with it." – Rob Schultz
Connect with Dan Phillips:
About Rob Schulz and P&L Podcast
The P&L Podcast is a show for business owners. In each episode, host and financial planner Rob Schulz sits down with business owners and the professionals that serve them to talk about business building, life, money — and the all-important transition out of the business, which inevitably happens to everyone who has ever founded a company.
Email Rob at rob.schulz@schulzwealth.com with questions, comments, and to schedule a one-on-one conversation.
Follow Rob on LinkedIn.
Follow Schulz Wealth on LinkedIn
Order Rob's book, Thoughts on Things Financial, on Amazon | Barnes & Noble | Kobo | iBooks | Kindle
Subscribe here:
And, if you enjoy the show, please leave a review on iTunes to help others discover the podcast.