P&L: Priorities & Lifestyle Episode 1 - Business Exit Strategy:
Hiring an Investment Banker with Brad Purifoy
Listen Now!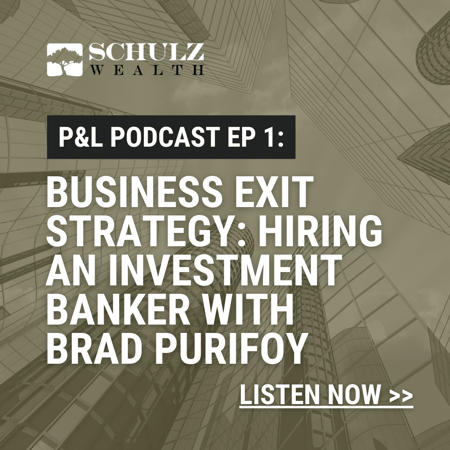 Brad Purifoy is an Investment Banking Professional at Corporate Finance Associates Worldwide. He has over 30 years of executive experience in the industry, including Fortune 500 corporate finance and Big 4 public accounting. He is a recognized expert in many transactions such as full company sales, recapitalizations, senior lending, stock sales, and mergers. Before joining Corporate Finance Associates Worldwide, Brad was the Senior Vice President for BKD Corporate Finance and Managing Director for Westlake Securities. In 2011-2012, he also served as chapter president and long-time board member of ACG.
In this episode, Brad joins us to share how he got started in investment banking and what sets Corporate Finance Associates Worldwide apart from the competition. He describes his responsibilities and the challenges of being an investment banker. He explains how business owners can benefit from hiring an investment banker, especially regarding the business risks they can mitigate. He discusses the processes involved in a typical transaction and how long an average transaction takes from the first meeting to the final closing. Brad also shares the common goals of most business owners when they want to sell their company.
"An investment banker does a tremendous amount to help steer the transaction that has all these people involved and keep it in the right direction." – Brad Purifoy
This week on Priorities Lifestyle:
How Brad got started in the investment banking industry.
Brad's definition of Lower-Middle Market.
Brad's company and what sets them apart from their competition.
What Brad likes about his work and some of the challenges he encounters.
The benefits of hiring an investment banker.
How an investment banker can impart wisdom through their experience with multiple transactions.
What do business owners want to achieve when selling their businesses?
How long an average transaction takes from meeting to closing.
How to gain client confidence through sales and other evidence.
The different types of buyers a business owner can encounter.
Our Favorite Quotes:
"There are so many things that occur in the sale of a business."- Brad Purifoy
"It's hard to have total control over a transaction, but what you're trying to do is to just steer it as all these external factors come into play." – Rob Schultz
"When you go about selling your business, it's important to look through the eyes of the buyer." – Austin Smith
Connect with Brad Purifoy:
Phone: 214.746.5094
Email: bpurifoy@cfaw.com
About Rob Schulz and P&L Podcast
The P&L Podcast is a show for business owners. In each episode, host and financial planner Rob Schulz sits down with business owners and the professionals that serve them to talk about business building, life, money — and the all-important transition out of the business, which inevitably happens to everyone who has ever founded a company.
Email Rob at rob.schulz@schulzwealth.com with questions, comments, and to schedule a one-on-one conversation.
Follow Rob on LinkedIn.
Follow Schulz Wealth on LinkedIn
Order Rob's book, Thoughts on Things Financial, on Amazon | Barnes & Noble | Kobo | iBooks | Kindle
Subscribe here:
And, if you enjoy the show, please leave a review on iTunes to help others discover the podcast.