Rob Schulz Named on 2017 INVESTOPEDIA 100 List of Most Influential Advisors
June 29, 2017 (Mansfield, TX) – Rob Schulz was named to the INVESTOPEDIA 100: Most Influential Advisors list. Investopedia, the premier online source of trusted financial information and services, today announced the inaugural INVESTOPEDIA 100, which recognizes financial advisors with the greatest impact across social media and content channels including TV, radio, blogs and books. Investopedia's content sciences team identified advisors across the country who are best able to engage with their audience as measured by reach, frequency, engagement and media mentions. Inclusion on this list is not solely based on engagement metrics, but also on the quality of the information produced and shared across media channels.
"It's become increasingly clear that financial advisors need to step up their game in order to keep pace with the popularity of robo-advising and passive investing. A brick and mortar location with little online presence will no longer cut it," comments David Siegel, CEO of Investopedia. "The INVESTOPEDIA 100 represents the financial advisors who understand where the industry is headed and how to create a strong online presence and showcase their expertise to a much broader audience."
The full list can be found on http://www.investopedia.com/top-100-financial-advisors/
"This was a real surprise to me," Schulz said. "Reading though the list, I can clearly identify it to be full of the top thought leaders in my industry."
"It's an honor for me to be included," Schulz continued. "I'm inspired to continue to write and do what I can to influence my industry and help people achieve greater financial success."
About Rob Schulz and Schulz Wealth
Rob Schulz, President of Schulz Wealth, Ltd., a graduate of The University of Texas and former Naval Officer, has over twenty years of experience in the financial services industry. As a CERTIFIED FINANCIAL PLANNER™ Practitioner and Institute for the Fiduciary Standard Best Practices Advisor, Rob continually demonstrates a dedication to the best interests of the client. Learn more or read some of Rob's planning tips and industry commentary by visiting https://schulzwealth.com/.
About Investopedia
Investopedia is the world's leading online source of financial content, with more than 27 million unique visitors and 78 million pageviews each month. Powered by a team of data scientists and financial experts, Investopedia offers timely, trusted and actionable financial information for every investor, from early investors to financial advisors to high net worth individuals. Investopedia is wholly owned by IAC (NASDAQ: IAC) and operated by IAC Publishing, a collection of some of the web's largest and most trusted digital media brands. For the latest in financial news and
information, visit http://www.investopedia.com/
Schulz Wealth Media Contact: Elisa Rode, 817.870.2717 or elisa@kearley.com
Investopedia Media Contact: Lauren Pozmanter, (917) 765-8720 or Investopedia@fullyvested.com
Rob Schulz in 1st Class of Best Practices Advisors by Institute for the Fiduciary Standard
For Immediate Release:  Thursday, March 23, 2017
Media Contact: Sharon Simpson, 240-620-4095, sgsimpsonconsulting@mac.com
Mansfield, TX – Schulz Wealth, a Mansfield-based financial planning practice, is proud to announce that its founder, Robert R. Schulz, CFP, has been included the 1st class of Best Practices Advisors named by the Institute for the Fiduciary Standard.
Schulz is one of only 26 registered investment advisers (RIAs) included in this inaugural class. The Institute for the Fiduciary Standard is a nonprofit formed in 2011 to benefit investors and society through its research, education and advocacy of the fiduciary standard's importance to investors, our capital markets and economy.
The six core fiduciary duties are:
Serve the client's best interest
Act in utmost good faith
Act prudently — with the care, skill and judgment of a professional
Avoid conflicts of interest
Disclose all material facts
Control investment expenses
According to the Institute's website, "Best Practices Advisors do more to serve their clients best interest. Each firm on this list has agreed to these high standards by subscribing to them with the Institute for the Fiduciary Standard and is publicly stating to federal and state regulators that they will adhere to the standards." The full list may be viewed here.
Knut A. Rostad, president of the Institute for the Fiduciary Standard, said in a statement:
"Best Practices Advisors, like other respected professionals, do more for their clients. They meet rigorous and concrete standards. They publicly and plainly demonstrate to investors and regulators what they do for clients. They demonstrate how fiduciary duties are translated into tasks and deeds that investors understand and value. They engage clients in ways that can build client trust. Ways which, they believe, build a foundation for deeper client-advisor relationships."
Jane Bryant Quinn, personal finance writer and author underscores the importance of what fiduciaries must do, "Fiduciaries disclose all fees including the fees associated with investment recommendations. They should have few or no conflicts (for any unavoidable conflicts) they disclose it in full and explain what it means."
Rob Schulz said:
"As a fiduciary, my goals are aligned with my clients' goals. I have a specific legal obligation, in addition to the moral obligation I put upon myself, to always act in my clients' best interests. This alignment provides the opportunity for a lifetime relationship that is based upon my clients' financial success. We act as true strategic partners and have a vested interest in each of our client's success," says Schulz.
About Schulz Wealth
Schulz Wealth was founded to help clients create an exciting financial future; carefully taking into consideration their unique circumstances, goals and objectives. Our systems and investment philosophy are designed to help our clients organize their finances and succeed. Learn more at www.schulzwealth.com.
Best Practices Advisors
Best Practices Advisors, in accordance with the Best Practices Affirmation Program, put the Best Practices on their website and language on their Form ADV stating they subscribe to the practices.
Members of the first class of Best Practices Advisors speak out candidly about Best Practices and fiduciary.
Best Practices Affirmation Program Supporters
The Best Practices Affirmation Program has won the support of leaders in the advisory industry. When the program was announced last September, former SEC Commissioner, Luis Aguilar, stated, "Many investors view finance and financial advisors in a dim light. It's important for the industry to take steps to improve this situation. Subscribing to and advocating for the Institute's Best Practices is an excellent start."
Institute for the Fiduciary Standard
The Institute for the Fiduciary Standard is a non-profit formed in 2011 to provide research, education and advocacy on the vital role of the fiduciary standard for investors and the capital markets. Visit the website, here: www.thefidcuiaryinstitute.org.
Rob and Shelly giving out grants to Mansfield ISD teachers
Rob, the current President of The Rotary Club of Mansfield, helped build a fence around the Community Garden.
Schulz Wealth table at Tablescapes hosted by the Women's Division of the Mansfield Area Chamber of Commerce. Great fund raising event for local scholarships.
---
Thank to Schulz Wealth and all of our sponsors for today's grants. You make this possible!!! @robschulztx
Local Financial Planner Encourages Client Health, Supports Mansfield Hospital through 2nd Annual Run with Heart

For Immediate Release: Thursday, September 10, 2014
Media Contact: Elisa Rode, 817.870.2717 or elisa@kearley.com
Mansfield, TX – Schulz Wealth, a Mansfield-based financial planning practice founded by Robert (Rob) Schulz, CFP, is paying the entry fees for all interested clients and their families as well as serving as an official sponsor of the 2nd Annual Run with Heart on October 11, 2014.
The Run with Heart includes a half-marathon, a 5k race and a one-mile fun run/walk, with all proceeds supporting cardiology services at Methodist Mansfield Medical Center. Schulz Wealth is sponsoring the race for the second time to support the local hospital, but also to encourage a healthy lifestyle for its clients and their families.
"As financial planners, we spend a lot of time with our clients talking about their hopes and dreams," Schulz said. "We believe a big part of our job is to help our clients organize, plan, and live in a way that builds personal financial success."
"More and more we are finding personal financial success to be related to a healthy lifestyle," Schulz continued. "For example: regular exercise can be the difference between a retirement fraught with illness and health expenses and one that is filled with the travel and leisure activity many hope to enjoy."
Because of this, for the second year Schulz Wealth will be paying the entry fee for any clients and their families who are interested in participating in either the half-marathon or 5k. The firm chose to be an event sponsor as well, because they truly appreciate Methodist Mansfield and the incredible impact they make towards better health and, therefore, a better quality of life within the Mansfield community.
Schulz goes beyond simply sponsoring the event, however, and runs the event himself each year. "Last year, I ran the 5k with my youngest, Gwen. As a result, she ran summer track for the first time with great success," Schulz shared. "Out of fear that she may beat me in the 5k, I have opted to run the half-marathon this year!"
Schulz's hope is that the firm's sponsorship and the incentive they provide for clients to participate in the Run with Heart will inspire others to work towards better health and plan for a bright future full of both financial success and good health.
About Schulz Wealth
Schulz Wealth was founded to help clients create an exciting financial future; carefully taking into consideration their unique circumstances, goals and objectives. Our systems and investment philosophy are designed to help our clients organize their finances and succeed. Learn more at www.schulzwealth.com.
-30-
Schulz Wealth, Ltd. is a Registered Investment Adviser. Advisory services are only offered to clients or prospective clients where Schulz Wealth, Ltd. and its representatives are properly licensed or exempt from licensure. Past performance is no guarantee of future returns. Investing involves risk and possible loss of principal capital. No advice may be rendered by Schulz Wealth, Ltd. unless a client service agreement is in place.
Rob Schulz Tris for Texas Food Bank
Determined to keep a local food bank up and running, amateur triathlete Rob Schulz dedicates his race to raising money through the Janus Charity Challenge.
As the seventh and final race in the Life Time Triathlon Series, the Toyota U.S. Open Triathlon is a championship event that highlights the athleticism of the world's elite and professional triathletes. And while its world-class location (Dallas), relatively fast course and stiff competition make it popular among the pros, the race is also open to amateurs and first-timers — people inspired by the pros, enamored with the sport and eager to test their speed and stamina in a competitive environment.
However, for Rob Schulz of Mansfield, TX, an investment consultant by day and triathlete in his spare time, the appeal of the October 2, 2011, U.S. Open Triathlon was largely financial. He had his eye on the prize. Not the prize purse awarded to the fastest finisher, but the purse awarded to the charity of the top athlete-fundraiser – money donated by Janus, a Denver-based investment management company, through a charitable fundraising competition known as the Janus Charity Challenge.
Created specifically for altruistic athletes like Schulz, the Janus Charity Challenge encourages racers to raise funds for their favorite nonprofit and supports them in their efforts by providing helpful fundraising tools and tips, including customizable donation request letters and a personal fundraising web page. Janus also rewards them for their efforts by making additional contributions to the charities of the top 43 fundraisers, donating $8,000 to the top finisher; $5,000 to the 2nd place finisher; $2,000 to the 3rd place finisher; $500 to each of the next 20 finishers; and $250 to each of the next 20 finishers. Since its inception in 2001, this unique and inspiring program has helped raise more than $51 million for hundreds of charities that have been hand picked by the athletes themselves.
With only two Olympic-distance triathlons under his belt, Rob Schulz boldly registered for the 2011 U.S. Open Triathlon and the Janus Charity Challenge. His goal was to add to the coffers of a fundraising campaign to finance the construction of a new facility for a food bank in his hometown. In a weak economy — and at the peak of demand — the Harvesting International Ministry Center food bank, which has served North Texans for more than 24 years, lost its lease and no longer has a building out of which it can operate.
"Not only does Harvesting International lack the financial means to relocate, but there is no other existing space in the area that fits the food bank's needs," Schulz explains. "So a friend of mine got local folks involved and, together, we've committed to raising $200,000 through Mansfield Cares, a nonprofit that works with various local charities by providing monetary funds to meet needs the charities cannot.
"While many of these people are asking supporters to write big checks, I decided to do it differently," Schulz says. "I'd just been involved in a fundraising campaign for a local hospital and had already gone and asked the people I knew for checks. I wasn't excited about doing it again, so I decided to race as a Janus Charity Challenge athlete-fundraiser at the U.S. Open Triathlon. I asked for minimum donations of $100 with the promise that, if I met my total fundraising goal of $20,000, everyone who contributed the minimum or more would be invited to a post-race party hosted by me and my wife."
Not only did Schulz meet his goal. He exceeded it, logging nearly $34,000 in donations by race day. Among the 25 Janus Charity Challenge athlete-fundraisers at the race, Schulz placed 3rd, earning an additional $2,000 from Janus.
"I was mildly disappointed about not placing 1st, because my fundraising totals had been far ahead of all other Charity Challenge participants up until race day," Schulz says. "But on the day of the race, it was an eBay situation, with people making new donations to the charities up until the final minute. However, I believe if you're going to get beat, you want to get beat by others doing a good thing. These were good people, great charities, and I'm happy for their success."
Thanks to Schulz's valiant effort and the generosity and support he received throughout his fundraising, Mansfield Cares is now $36,000 closer to being able to fund a new food bank for North Texans.
"Tying Rob's fundraising efforts to the triathlon was a great way to draw attention to our project," says Lance Walker, a member of Mansfield Cares' board of directors. "It showed his willingness to go the extra mile to help ease hunger in our area."
Schulz has a strong hunch he'll race and fundraise again. And while he's not sure it will be the same race or the same charity, he's confident that the Janus Charity Challenge will be part of the experience.
"The Charity Challenge allowed me to approach [potential donors] from a different angle and allowed them to participate in the excitement of the event. Everyone benefits."
The Right Thing To Do
as published in Mansfield Now Magazine
www.nowmagazine.com
MANSFIELD, TX – Rob Schulz is extremely reluctant to talk about himself. He's not impolite about it, but he'd just rather not be the main topic of conversation. That just seems to be his style.
But his excitement grows when the conversation turns to his efforts in the community, especially the project known as Mansfield 2020. This project is just one of his passions, and something he is deeply committed to seeing succeed. In fact, seeing Mansfield flourish is very much a part of who he is. "Mansfield is a real community, not just another sterile suburb," Rob said. "It has diversity, history and character that make it a great place to live! We're here for life!"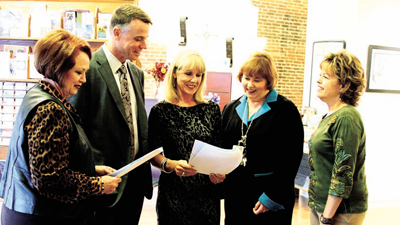 Rob and his wife, Shelly, whom he married during his senior year at The University of Texas at Austin, have lived in Mansfield since May 1994. They have four children: Gretchen, Grace, Daniel and Gwen, who range in age from 20 to 9. "I want Mansfield to be a place that my kids can come back to someday and thrive if that is what they desire. This community has massive potential, a Mansfield 2020 is our roadmap to success."
Much of Rob's sense of community involvement comes from his family heritage. Rob looked up to his father and grandfather, who both believed in making a difference in their community. Rob said his father's passion was for downtown revitalization. That influence led Rob, once the decision was made that Mansfield would be his family's home, to the Mansfield Chamber of Commerce to ask how he could be of service. Because of the way he was reared, community service was never a question where Rob was concerned. "It's what you do," he stated. "It's the legacy you leave behind."
The first thing Rob got involved in was the campaign that led to the Mansfield Economic Development Corporation (MEDC). The campaign called for a half-cent sales tax increase to fund the MEDC and passed by a wide margin. Then in 2009, Rob was inspired to work with the Mansfield Area Chamber of Commerce to create Mansfield 2020, which he describes as a living document. The document was adopted by the Chamber and presented to the Mansfield City Council in 2010.
The mission of Mansfield 2020 is to discover what Mansfield can accomplish by the year 2020 and share a vision for the future. MEDC incorporates four areas of focus: infrastructure, economic development, education and quality of life. The document states that quality of life is intertwined with the others and that it's all about finding and creating better lives for ourselves and our children. To improve on the quality of life in the community, the document focuses on several initiatives that include clean, green and lean.
When discussing the clean aspect, the document points out how important first impressions are. For that reason, a greater emphasis on clean streets and beautification programs is advocated. "This means we may have to find a way to locally fund the cleanup of state-owned thoroughfares and even private property in order to meet the high standards our potential future demands," he explained.
As one might guess, green has to do with maintaining a healthy focus on the environment. The document indicates that in order to continue to achieve a strong quality of life, there will have to be continued emphasis on the linear park system and maintaining clean and beautiful waterways. Environmentally responsible recycling, water use and energy initiatives are also considered essential.
"Lean has to do with health," Rob said. "The Mansfield 2020 document is crucial to one's quality of life." Moreover, the document asserts that a strong health initiative would set this community apart from others. Rob and the Mansfield 2020 Health Initiatives committee believe the community is well on its way in this area with newly created branding and unprecedented cooperation between the city, school district, local businesses and healthcare providers. "Our efforts are being noticed and acknowledged as groundbreaking work throughout the Metroplex," he added.
When it comes to economic development, the goal for the year 2020 is a self-sustaining city with quality neighborhoods, schools and businesses, known as a hub of medical excellence, corporate headquarters and clean industry. Continued encouragement of medical industry expansion, educational excellence, cultural enrichment and public transportation initiatives are among the items suggested. A vital, continued effort for downtown revitalization is also considered important.
By the year 2020, Highway 360 should be taking drivers all the way to Hillsboro, becoming a third major connector for travel between the Metroplex and Austin. In addition, Mansfield is slated to be a part of the proposed Loop 9, a 357-mile loop around the entire Metroplex. Mansfield 2020 suggests that intensive planning for the opportunity needs to start immediately.
Rob feels that education may be the most important component of Mansfield 2020. Keys for a successful educational system include more parental involvement at the higher grade levels and massive support from the business community. The goal of the Mansfield education system is to have students prepared to step off the commencement stage into an academic or vocational program that helps them achieve the career path they have chosen in life. Rob holds this goal very close to his heart. "I want this to be a community where every kid is prepared to achieve what they want to accomplish and be able to do it here," Rob remarked.
To Rob, Mansfield 2020 is all about giving tools to community leaders who aspire to do great things, while also giving them the opportunity to succeed. What if they should bypass the vision? "That's even better," he said. "That's the greatest compliment. It's my hope that Mansfield attracts and nurtures such talented future leaders that they in turn achieve things we cannot possibly imagine."
But don't think Vision of Mansfield 2020 is the main priority in Rob's life. As he talks about his children and his wife, his eyes light up. The dry erase board in his office is evidence that his family is very close and supportive of one another. The words, "I love you Daddy! Gretchen," had been drawn there by his daughter for all to see. Once again, Rob reiterates his desire — making an impact on the community has more to do with providing a legacy for his family than anything else. "It's just the right thing to do."
Written by Rick Hope.