P&L: Priorities & Lifestyle Episode 7- Navigating The Post-Pandemic Mortgage Industry with Shawn Broussard
Listen Now!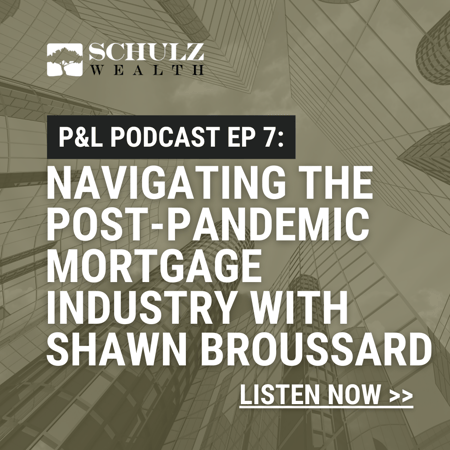 Shawn Broussard is the CEO of Service First Mortgage, a full-service mortgage lending company established in 1997 to serve clients in Texas and Arizona. The Service First Mortgage team prides itself on being a preferred partner of the real estate community, with clients using their services for fast underwriting turnaround and shorter-than-average processing days. As CEO, Shawn strives to improve customer service by equipping his team with various tools and training. He says a happy team is what creates a culture of customer satisfaction.
In this episode, Shawn discusses how he joined the mortgage industry and what makes Service First Mortgage different from other mortgage companies. He describes the various risks and regulations associated with mortgages. He explains what can threaten the industry in the future and how businesses can prepare. He shares how a healthy team leads to better customer service. Shawn also describes how they fared throughout the pandemic and what he predicts the future of workplaces will be post-Covid-19.
"Being able to do it for a long time in the mortgage industry is a big deal. That is a tough industry to survive." – Rob Schulz
This week on Priorities Lifestyle:
Who Shawn is, when his passion for mortgages started, and how he got into the mortgage industry
The different risks associated with this type of business
Identifying the most critical part of any company
The industry threats Shawn sees on the horizon
Why Shawn doesn't see real estate pricing going down in Texas
Why Shawn doesn't see himself retiring anytime soon
Shawn's purpose in his business right now
Why Service First Mortgage leadership focus on their team instead of their customers
How they were ready to do business during the pandemic
How the elections affected the mortgage business
What working will be like in a post-pandemic world
Our Favorite Quotes:
"When you go to a consumer-direct model―and you have those peaks and valleys―you have to staff up and lay off." – Shawn Broussard
"If you have a healthy team, then you have good customer service." – Shawn Broussard
"Interest rates will increase or decrease our flow of business, but they won't put us out of business." – Shawn Broussard
Connect with Shawn Broussard
About Rob Schulz and P&L Podcast
The P&L Podcast is a show for business owners. In each episode, host and financial planner Rob Schulz sits down with business owners and the professionals that serve them to talk about business building, life, money — and the all-important transition out of the business, which inevitably happens to everyone who has ever founded a company.
Email Rob at rob.schulz@schulzwealth.com with questions, comments, and to schedule a one-on-one conversation.
Follow Rob on LinkedIn.
Follow Schulz Wealth on LinkedIn
Order Rob's book, Thoughts on Things Financial, on Amazon | Barnes & Noble | Kobo | iBooks | Kindle
Subscribe here:
And, if you enjoy the show, please leave a review on iTunes to help others discover the podcast.