P&L: Priorities & Lifestyle Episode 24 –
Never Stop Planning Your Finances with Kevin Kennedy
Listen Now!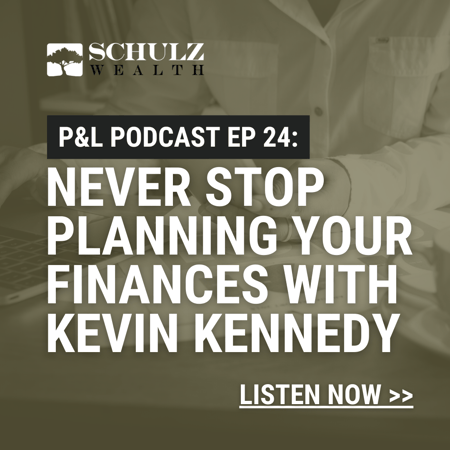 Kevin Kennedy is the President of Kennedy Wealth and Tax Management, a financial business founded in 1995. Their team of retirement specialists provides investment advising and consultation to clients with assets over $1 million. Their services include tax management and financial planning with a focus on retirement. Kevin started the company because he wanted to offer unbiased investment offerings to help clients secure their financial future.
Kevin joins me today to explain why financial planning should be ongoing and must be ironed out by the time you're 62. He recalls how we met in 2008 and our goals back when we started our companies. He discusses how to properly design your financial goals and what your CPA should bring to the table. Kevin also describes why clients who communicate regularly are easier to work with than those who only meet with us once a year.
"It's not a financial plan, it's financial planning. It's on an ongoing, modular basis." – Kevin Kennedy
This week on Priorities Lifestyle:
When Kevin and I met in 2008 and where we were in from a financial perspective

The types of people who should make up your team

Devising your business plan and the right mental approach

Hiring a CPA for wealth management and tax planning

Rearranging furniture from a tax standpoint

Why it's better to communicate with a client frequently than seldomly

Keeping a tight relationship with your wealth management person

The quality of financial education in the US
Resources Mentioned:
Our Favorite Quotes:
"If you stopped and worried about what potentially could go wrong, you'd never do it." – Kevin Kennedy

"The best clients are the ones engaging on an ongoing basis." – Rob Schulz

"There's a whole slew of Americans living paycheck to paycheck. It's not an income problem; it's an expense problem." – Rob Schulz
Connect with Kevin Kennedy:
About Rob Schulz and P&L Podcast
The P&L Podcast is a show for business owners. In each episode, host and financial planner Rob Schulz sits down with business owners and the professionals that serve them to talk about business building, life, money — and the all-important transition out of the business, which inevitably happens to everyone who has ever founded a company.
Email Rob at rob.schulz@schulzwealth.com with questions, comments, and to schedule a one-on-one conversation.
Follow Rob on LinkedIn.
Follow Schulz Wealth on Facebook
Order Rob's book, Thoughts on Things Financial, on Amazon | Barnes & Noble | Kobo | iBooks | Kindle