P&L: Priorities & Lifestyle Episode 12 - Boosting Your Business Credibility with Chris McKee
Listen Now!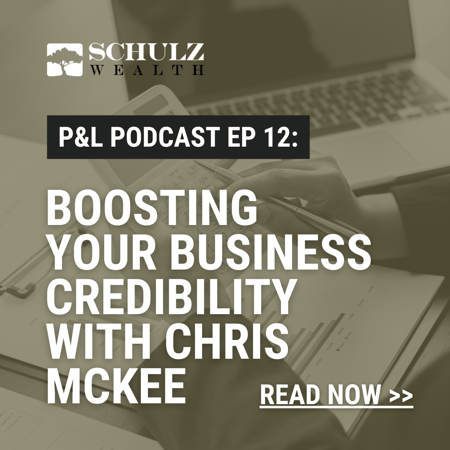 Chris McKee is the president and founder of Venturity Financial Partners, an outsourced accounting firm in the Dallas, Texas area. The firm offers a wide range of bookkeeping, accounting, and CFO services, as well as systems support and consultations. Venturity was founded out of a need for an alternative for growing companies, including startups. Chris's experience has allowed him to offer specialized accounting services, particularly in the restaurant, retail, and wholesale distribution industries.
In this episode, Chris joins me to discuss what Venturity is and why they're the best in the business for all the accounting needs of small and growing businesses. He explains the importance of updating your company's financials, especially if you plan on selling it some day. He shares why he preferred the accounting profession over being an auditor. He describes why personal and business assets should remain separate. Chris also explains why Open-Book accounting and offering an employee stock option is advantageous in any industry.
"If you have a good set of financials, it gives the acquirer a lot more confidence and builds your credibility as a seller." – Chris McKee
This week on Priorities Lifestyle:
Who Chris McKee is and the services his company offers

Why Chris preferred accounting over auditing

Chris's takeaways from working as an accountant and when he founded Venturity

How they conceived the name "Venturity"

Red flags in the financials than offer an early hint that a company is falling behind

How to build credibility as someone selling a company to an acquirer

Why you should keep personal and business assets separate

How time can change the way you perceive owning and selling a business

What Open-Book Accounting is (with examples)

ESOP and the advantages of offering this program in your business

What Chris plans for himself after he surrenders ownership of Venturity
Our Favorite Quotes:
"Training people how to run a business through open book management is the perfect foundation for them to actually own the business through an employee stock ownership plan." – Chris McKee

"Whatever you are actually making, your people think you are making 2-5 times as much." – Chris McKee

"There are a lot of companies struggling to get accurate financials." – Chris McKee
Resources Mentioned:
Connect with Chris McKee
About Rob Schulz and P&L Podcast
The P&L Podcast is a show for business owners. In each episode, host and financial planner Rob Schulz sits down with business owners and the professionals that serve them to talk about business building, life, money — and the all-important transition out of the business, which inevitably happens to everyone who has ever founded a company.
Email Rob at rob.schulz@schulzwealth.com with questions, comments, and to schedule a one-on-one conversation.
Follow Rob on LinkedIn.
Follow Schulz Wealth on LinkedIn
Order Rob's book, Thoughts on Things Financial, on Amazon | Barnes & Noble | Kobo | iBooks | Kindle
Subscribe here:
And, if you enjoy the show, please leave a review on iTunes to help others discover the podcast.